Monthly Giving Club
We Need Your Help!
Would you spend $15 a month to ensure that the hardworking staff at St. Francis Memorial Hospital have the equipment they need to care for us all when it is needed most?
The St. Francis Valley Healthcare Foundation is always looking for new members to join the St. Francis Circle Monthly Giving Club. This club is a special group of people who commit to making a gift each month to help the needs of our hospital. Your monthly membership means so much to us and the patients we support.
Monthly gifts can be automatically donated from your credit card or through your bank account by sending us a void cheque. For more information about becoming a Club Member, please contact us at 613-756-3044 extension 217 or click on the button below to sign up!
---
Click on the newsletter image below to read about our Monthly Giving Club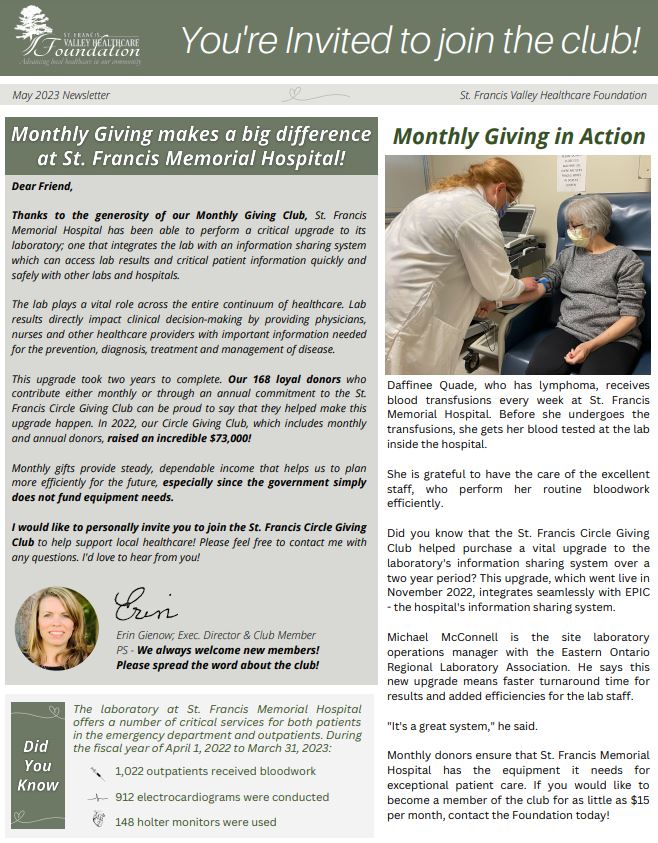 ---
Meet some of our Monthly Giving Club Members!

MARY-ELLEN HARRIS
As Director of Patient Care Services at St. Francis Memorial Hospital, Mary-Ellen Harris has direct experience with how important monthly giving is to the hospital. Mary-Ellen said the Foundation is a critical partner in the hospital's ability to achieve its mission of providing high-quality, patient-centered healthcare in collaboration with its partners; and its vision of being a leader in health services that are patient-centered, integrated and responsive to rural community health needs. "Without the support of the foundation and the community, SFMH would not have the state-of-the-art clinical and imaging equipment needed to respond and care for those in need of our help. The foundation ensures we have the most up-to-date, innovative, and necessary clinical and technological solutions available to our Clinical Teams. In turn, SFMH attracts and retains qualified and highly skilled staff and Physicians," Mary-Ellen explained. If you would like to join Mary-Ellen by contributing, you can start your membership on the Foundation's website by Clicking Here or give us a call at 613-756-3045 ext. 217!
---
AMANDA DUMAS
Amanda Dumas is a Charge Technologist for the Diagnostic Imaging department at St. Francis Memorial Hospital. Every day, she works with equipment purchased by the St. Francis Valley Healthcare Foundation. She has been a member of the St. Francis Circle Giving Club for several years. "I am eternally grateful to have use of the equipment that the community has purchased at my fingertips to provide excellent patient care," she said. "As someone who visits the hospital – both for myself and my children - I am reassured to know that the staff have the required equipment to provide the highest level of care." Would you consider helping local healthcare if it only cost as little as $15 per month? You can join our St. Francis Circle Giving Club and help ensure the future of our local hospital! Give us a call at 613-756-3045 ext. 217 or Click Here to sign up.
---
MARIE AND STEPHEN FINNERTY
As a member of the St. Francis Valley Healthcare Board of Directors, Marie Finnerty and her husband Stephen made it a priority to become monthly donors after they found out that the government does not fund equipment needs at the hospital.
"We, and our extended family, have benefited greatly from the hospital over the years and do not want the services offered to our community to decline or discontinue," Marie said.
Anybody on any budget can join the Monthly Giving Club. If you'd like to sign up, please give us a call at 613-756-3045 ext. 217
for more information or sign up by
Clicking Here
.