2022 Friends of St. Francis Charity Golf Tournament
The call for teams is now open!
We are delighted to announce that after several years, we are returning to the shot-gun format embraced by our golfers pre-Covid. Safety precautions will be in place to ensure a healthy and fun time. There will be a served buffet in place, featuring beef and chicken as the main course. And due to popular demand from last year's staggered tournament, doughnuts (yes, doughnuts!) will be available as a yummy treat throughout the day.
With all that being said...YOU DO NOT WANT TO MISS THIS!! We cannot wait to see you all once again for a great day of golf, fun and best of all, it's for a great cause!
For all the details, and to download a registration package, click here!
---
In Memoriam and Planned Giving
Everyone wants to be remembered in some capacity after they pass. Did you know that you can create a lasting legacy for yourself or a loved one while ensuring the future of local healthcare? The St. Francis Valley Healthcare Foundation raises funds for three key healthcare partners, including the Valley Manor long term care home, St. Francis Memorial Hospital and Madawaska Valley Hospice.
While you can choose to donate to any one of our healthcare partners, you will make the greatest impact by directing funds generally to the St. Francis Valley Healthcare Foundation. This will give the Foundation the flexibility it needs to ensure funds are directed where they are needed, and when they are needed, the most.
By designating In Memoriam donations to the St. Francis Valley Healthcare Foundation, purchasing an element on the In Memory Mural, or assigning a gift to the Foundation in your will, you are providing future generations access to local healthcare.
Click the photo below to read the 2022
In Memoriam and Planned Giving newsletter
---
---
JOIN THE CLUB!
The St. Francis Valley Healthcare Foundation is currently running a membership drive for our St. Francis Circle Monthly Giving Club. Consider joining the club at $15/month and help us purchase equipment for our hospital! For more information about becoming a Club Member please contact us at: 613-756-3044 ext 217
Click here to become a member of the St Francis Circle Monthly Giving Club!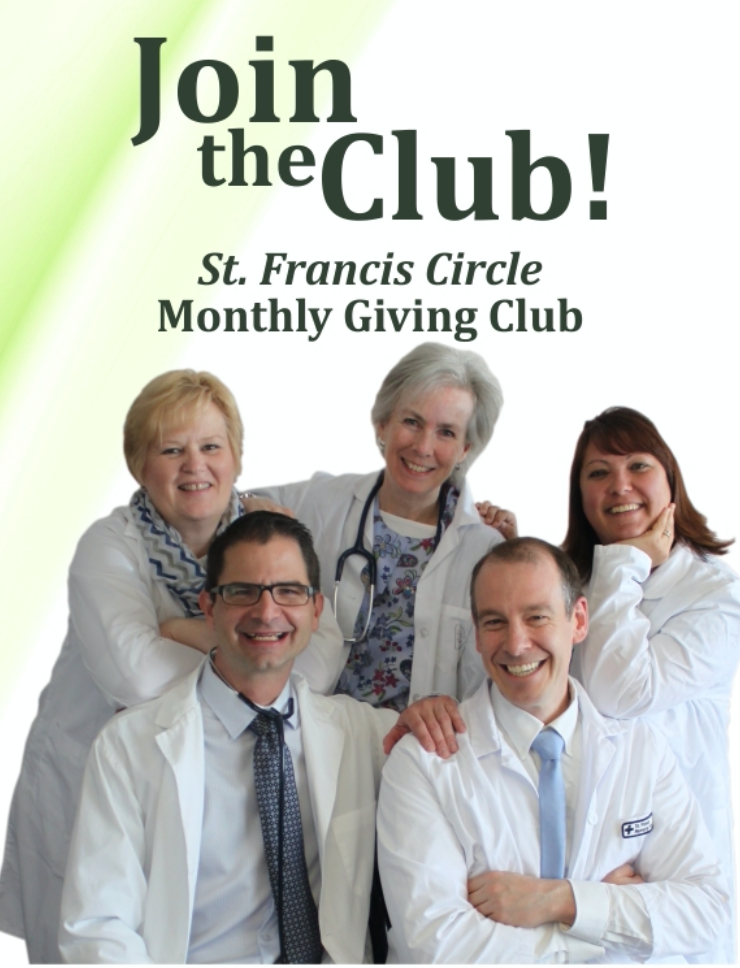 ---
$1 Million Raised for Valley Manor Redevelopment Campaign!
Thanks to the generosity of our incredible donors, supporters and volunteers, we are thrilled to announce that together we have raised an amazing 1 MILLION DOLLARS which will help bring a new Valley Manor long-term care home to Barry's Bay!! Click on the image below to enlarge!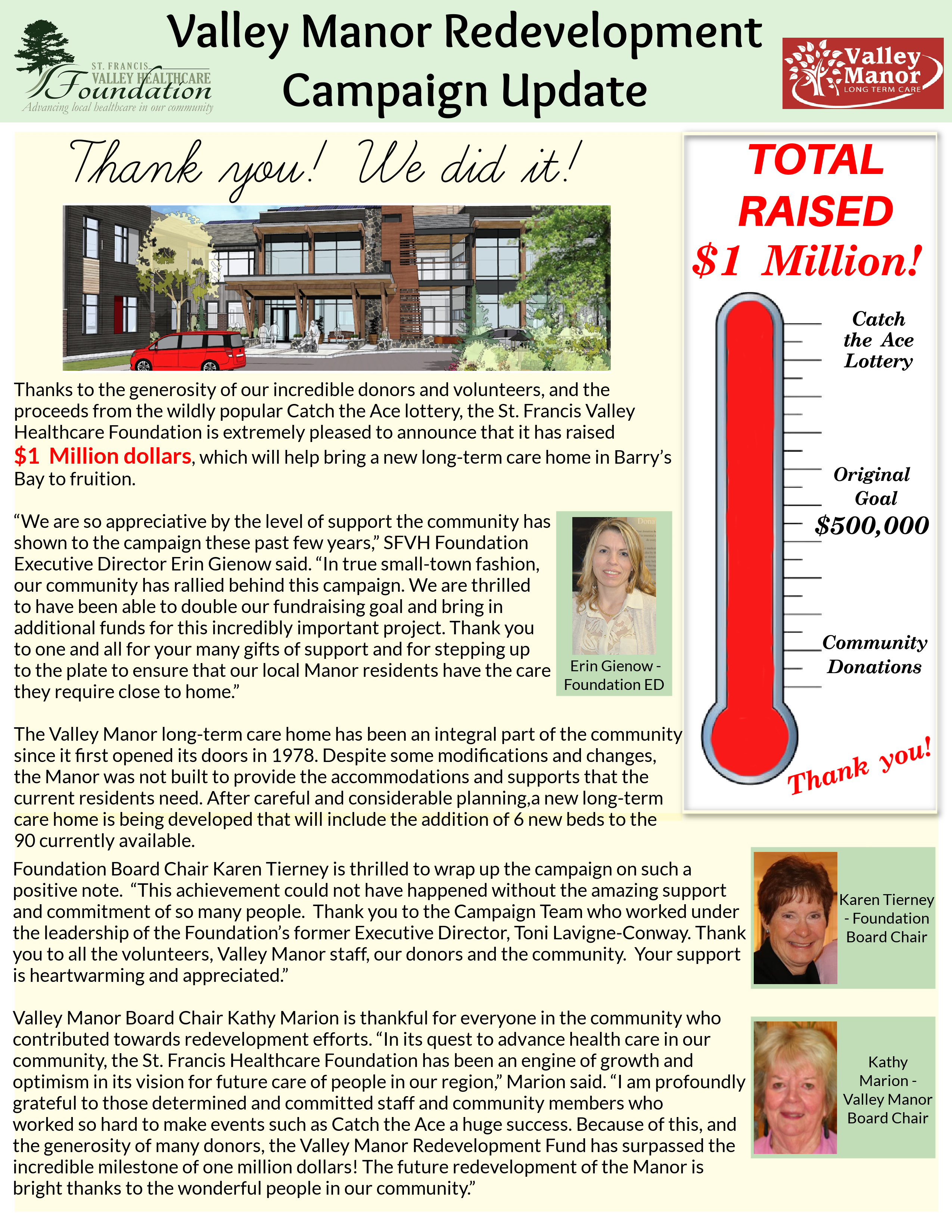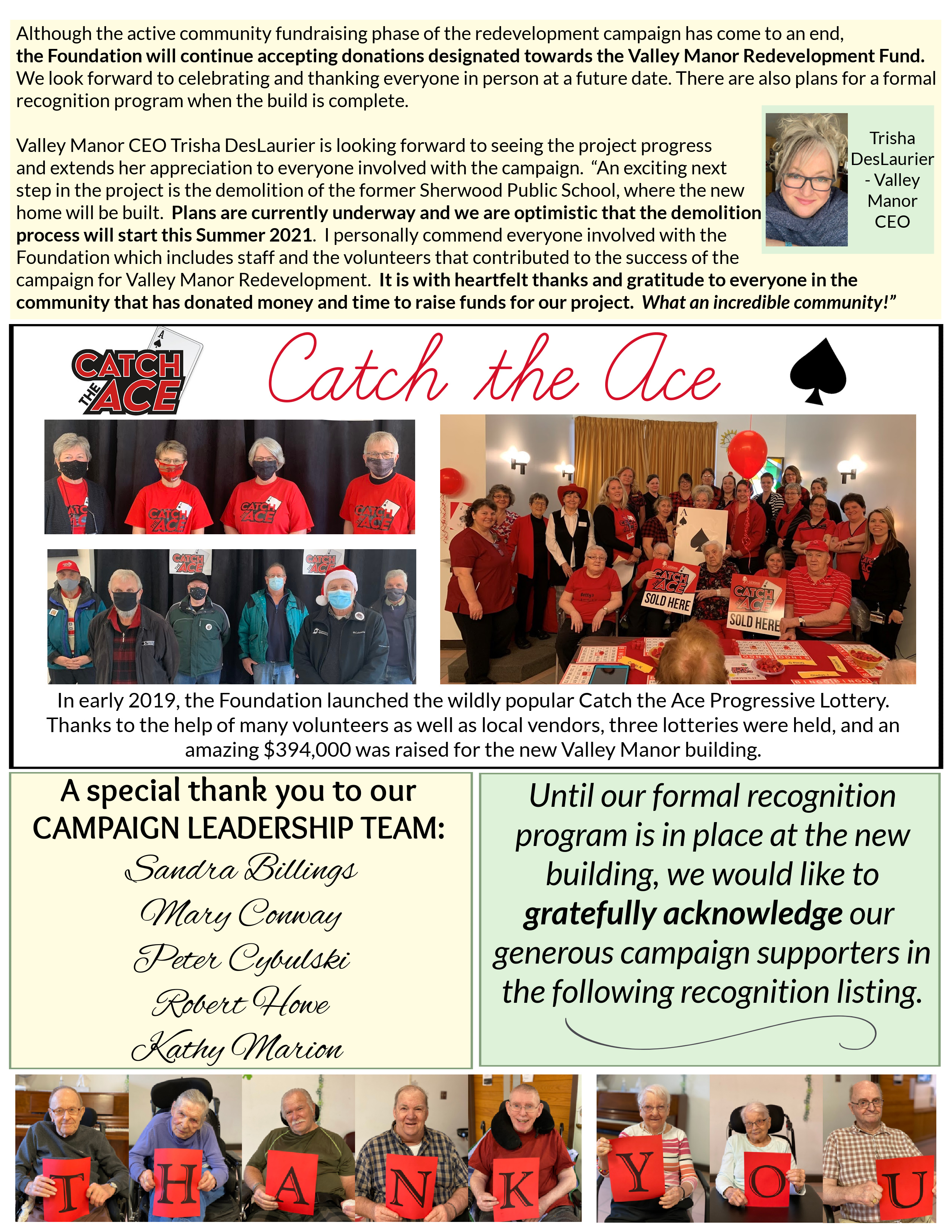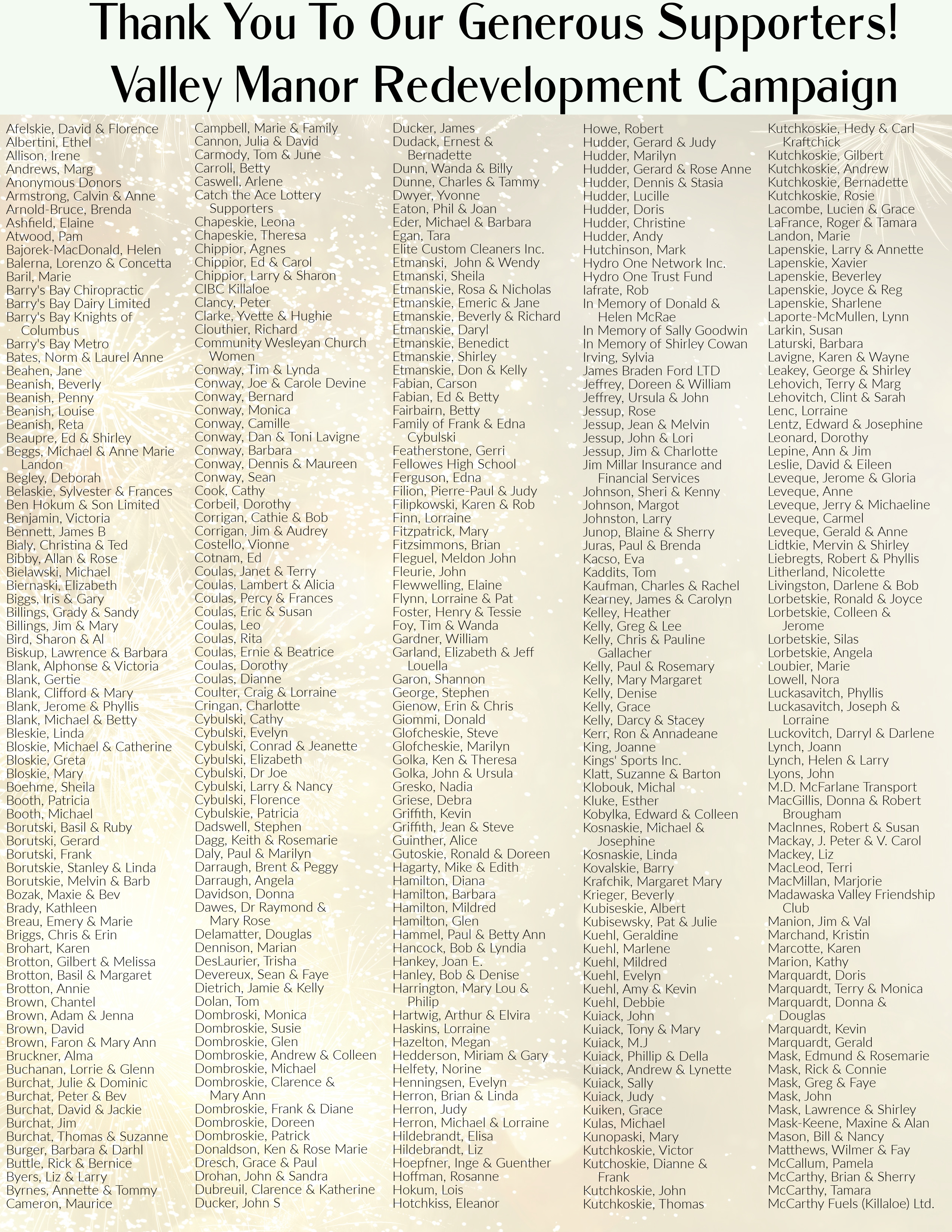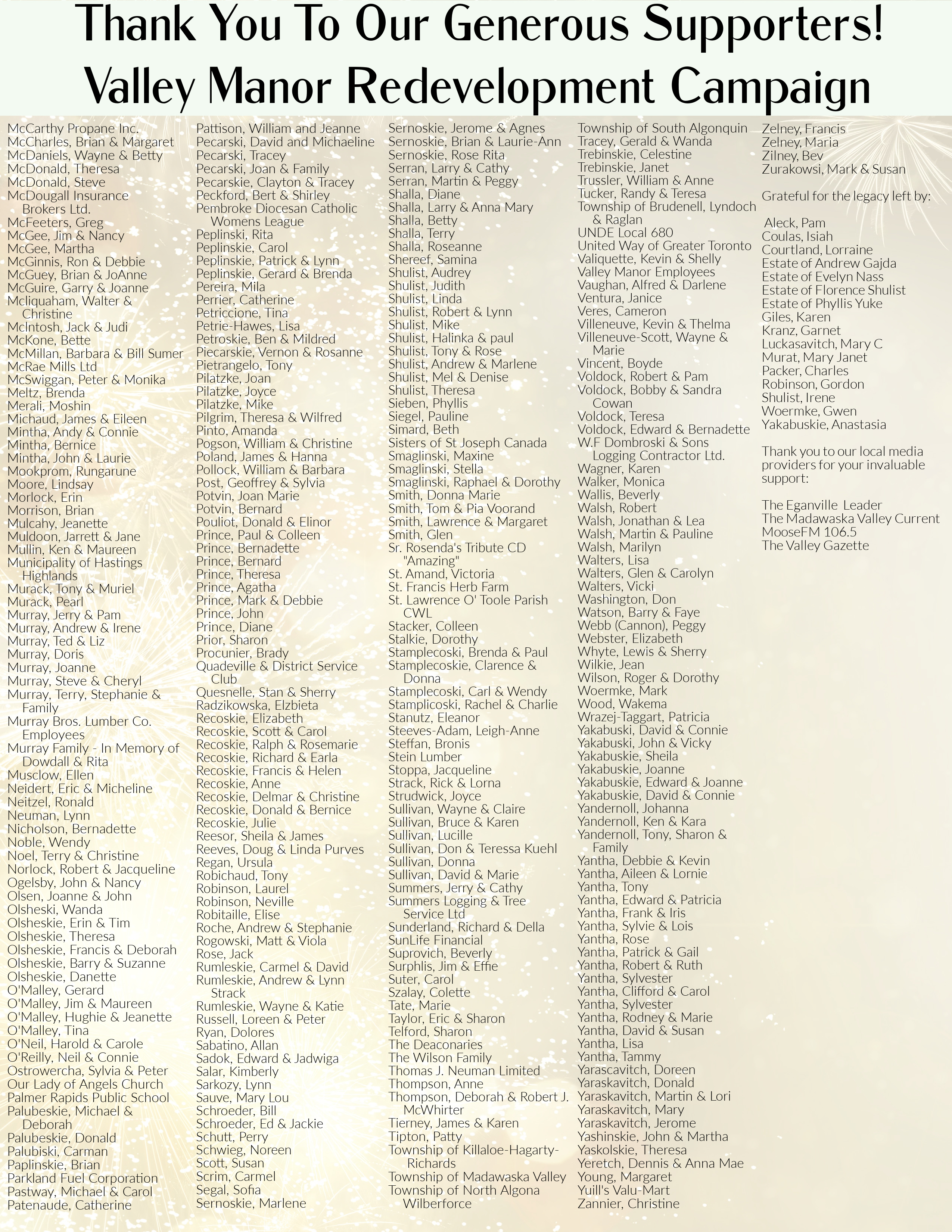 ---
FACES OF THE FRONTLINE
As Covid-19 continues to affect every aspect of our lives, we'd like to express our deepest gratitude to all who are keeping us safe.
Thank you to all of our local healthcare workers for your dedication during this difficult time. We are so grateful to every one of the frontline staff at St Francis Memorial Hospital, Rainbow Valley Community Health Centre, Valley Manor and MV Hospice Palliative Care who continue to work selflessly during this stressful time. It provides our community with so much comfort knowing that you are all there for us.
We recognize and appreciate you!
---
If St. Francis Memorial Hospital, Valley Manor, or Madawaska Valley Hospice Palliative Care holds a special place in your heart because of a personal experience or that of a family member or friend, we would love to hear from you!
To share your story and experience, please contact us at:
St Francis Valley Healthcare Foundation
p: (613) 756-3044 ext 333
or email us at: office@sfvhfoundation.com
---
Find out more about becoming a member of our monthly giving club in our newsletter.