$1 Million Raised for Valley Manor Redevelopment Campaign!
Thanks to the generosity of our incredible donors, supporters and volunteers, we are thrilled to announce that together we have raised an amazing 1 MILLION DOLLARS which will help bring a new Valley Manor long-term care home to Barry's Bay!! Click on the image below to enlarge!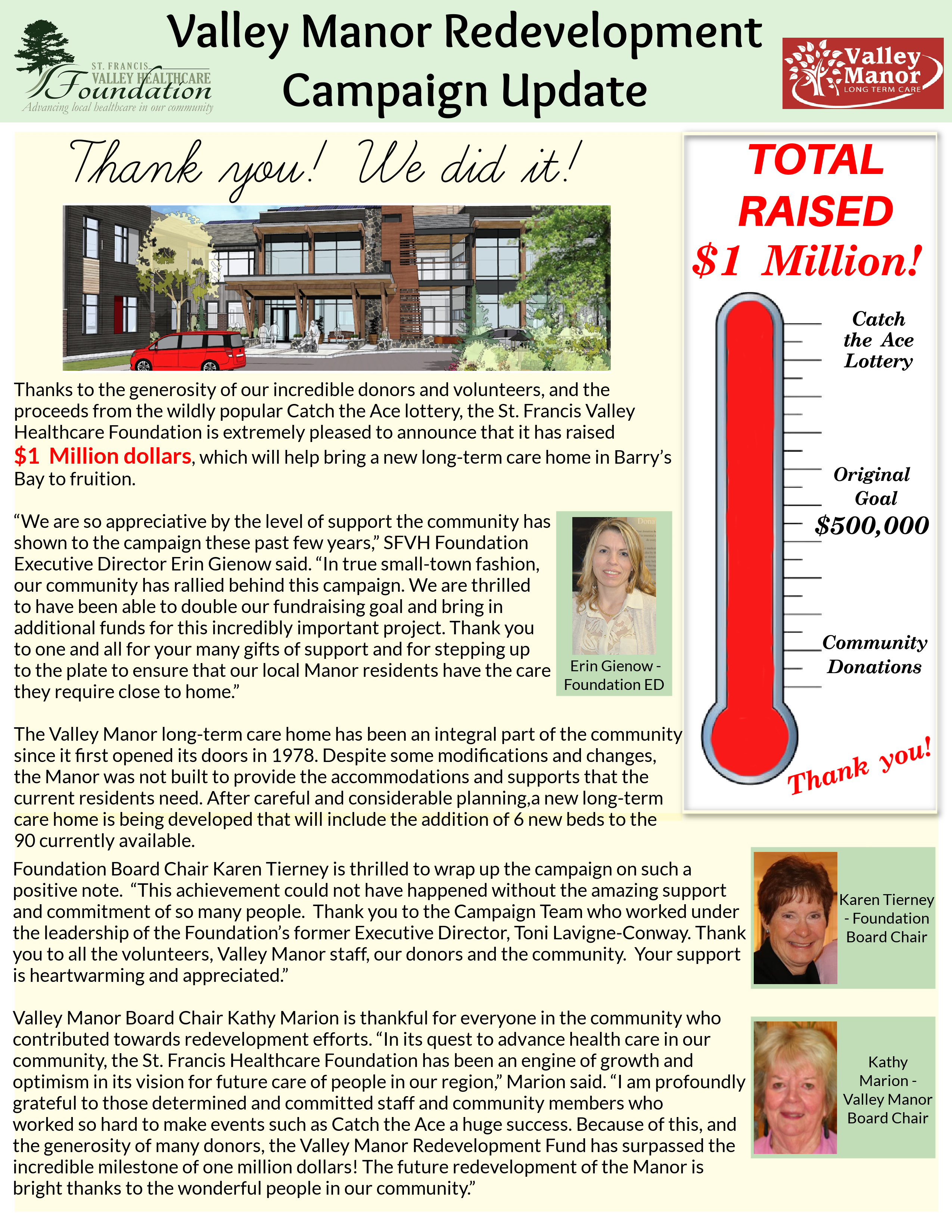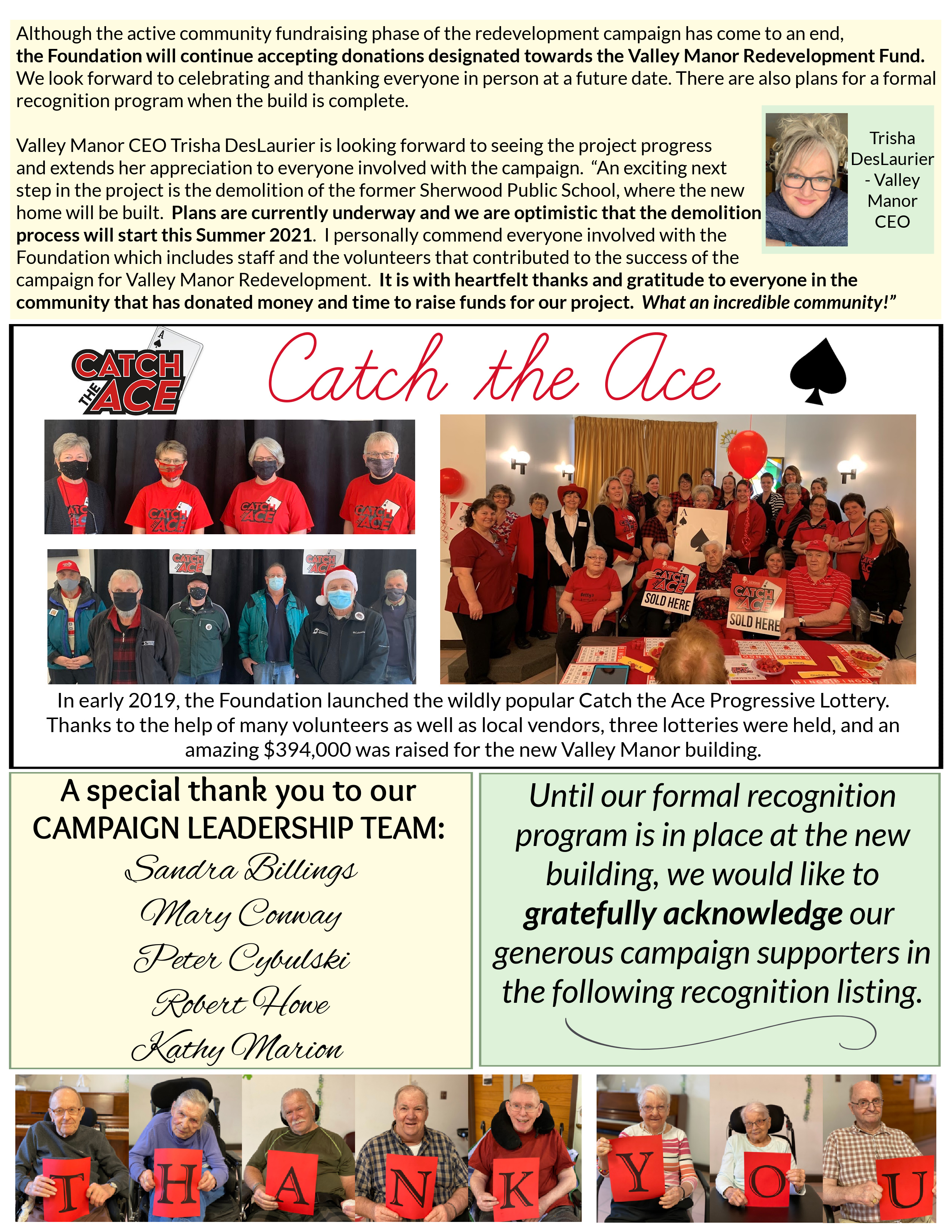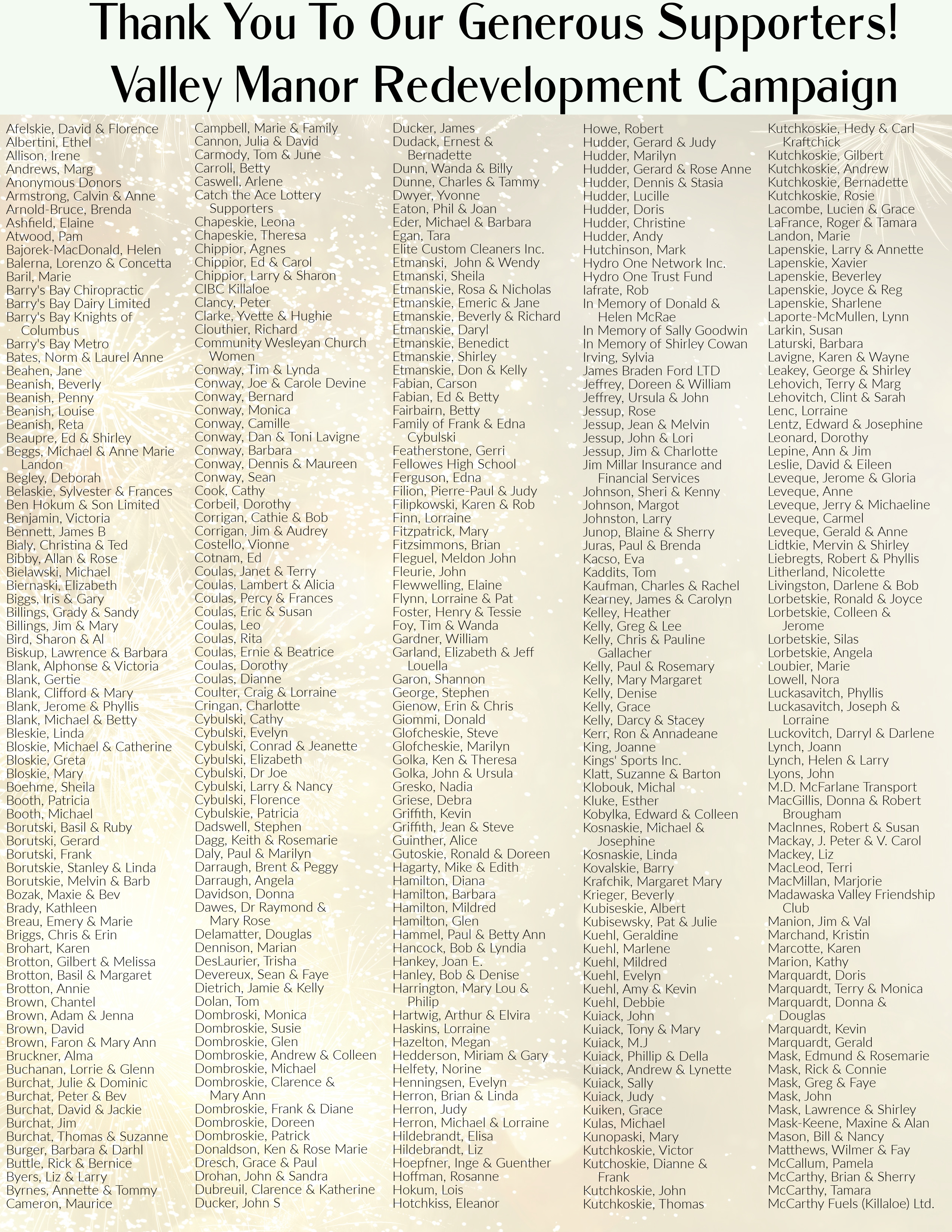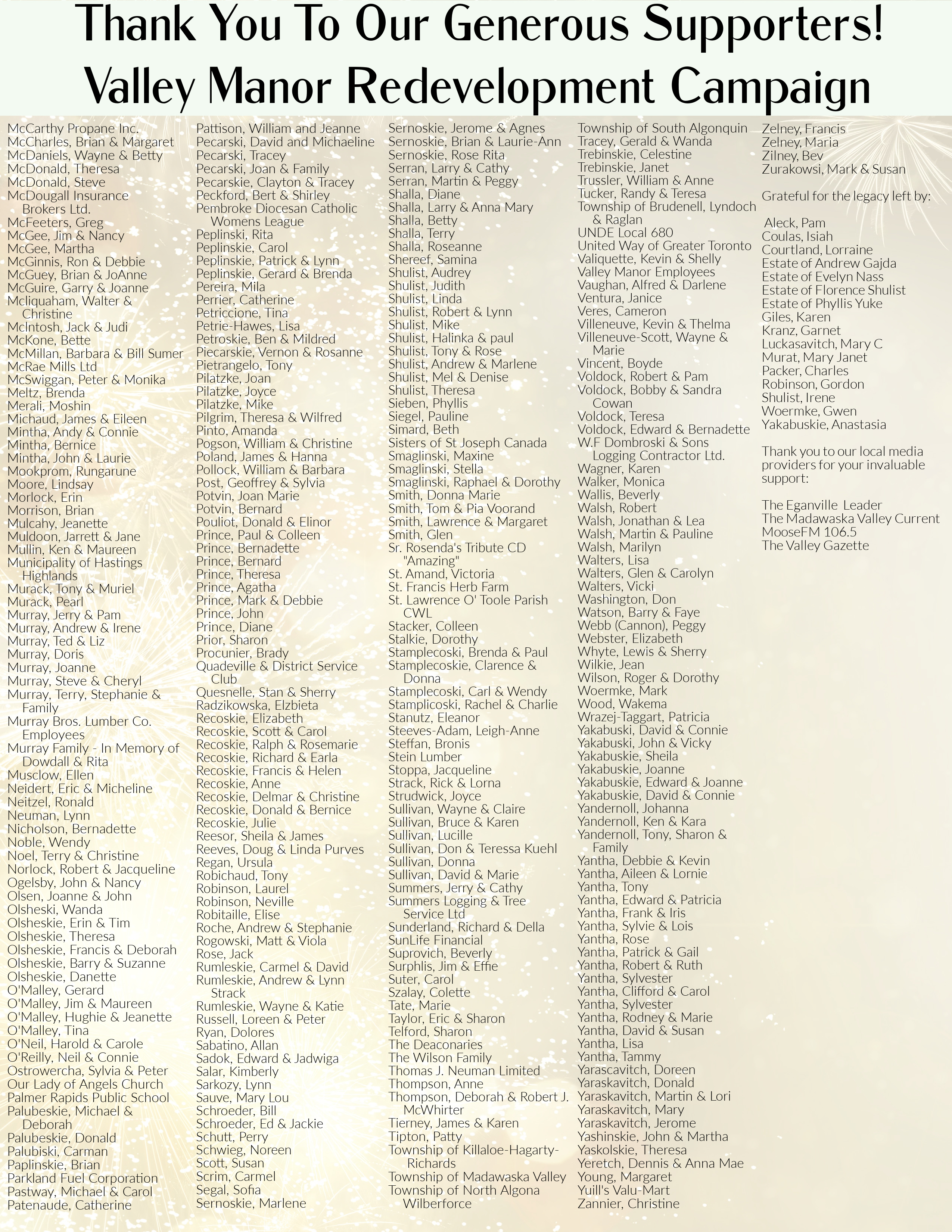 ---
Catch the Ace Is Temporarily Postponed Due To Provincial Health Directives
Stay tuned for updates on our Facebook page and website.
---
In Memoriam and Planned Giving
Click the image below to meet our In Memoriam and Planned Giving families and to learn more about ways you can make a lasting legacy for yourself or a loved one.
---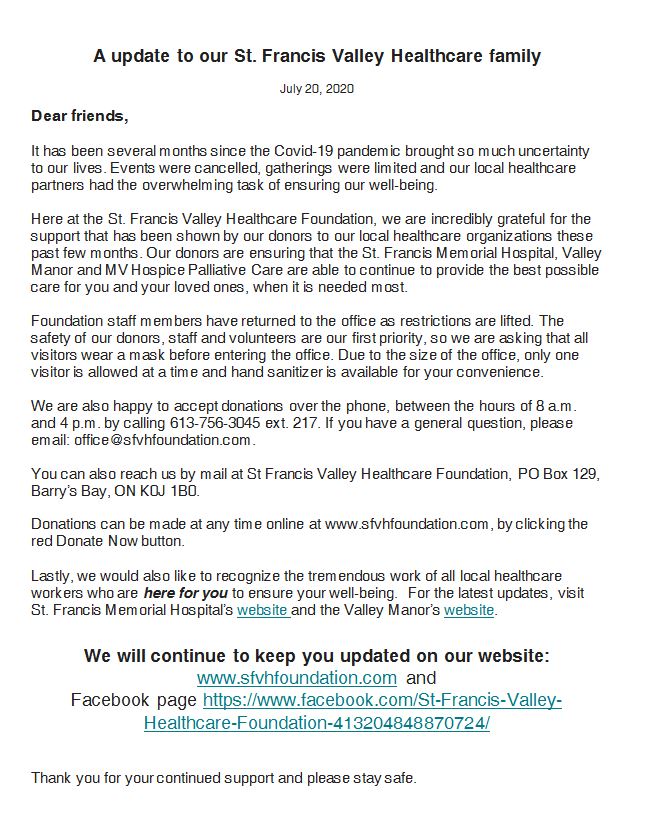 ---
FACES OF THE FRONTLINE
As Covid-19 continues to affect every aspect of our lives, we'd like to express our deepest gratitude to all who are keeping us safe.
Thank you to all of our local healthcare workers for your dedication during this difficult time. We are so grateful to every one of the frontline staff at St Francis Memorial Hospital, Rainbow Valley Community Health Centre, Valley Manor and MV Hospice Palliative Care who continue to work selflessly during this stressful time. It provides our community with so much comfort knowing that you are all there for us.
We recognize and appreciate you!
---
JOIN THE CLUB!
The St Francis Valley Healthcare Foundation is currently running a membership drive for our St Francis Circle Monthly Giving Club. Consider joining the club at $15/month and help us purchase equipment for our hospital! For more information about becoming a Club Member please contact us at: 613-756-3044 ext 217
Click here to become a member of the St Francis Circle Monthly Giving Club!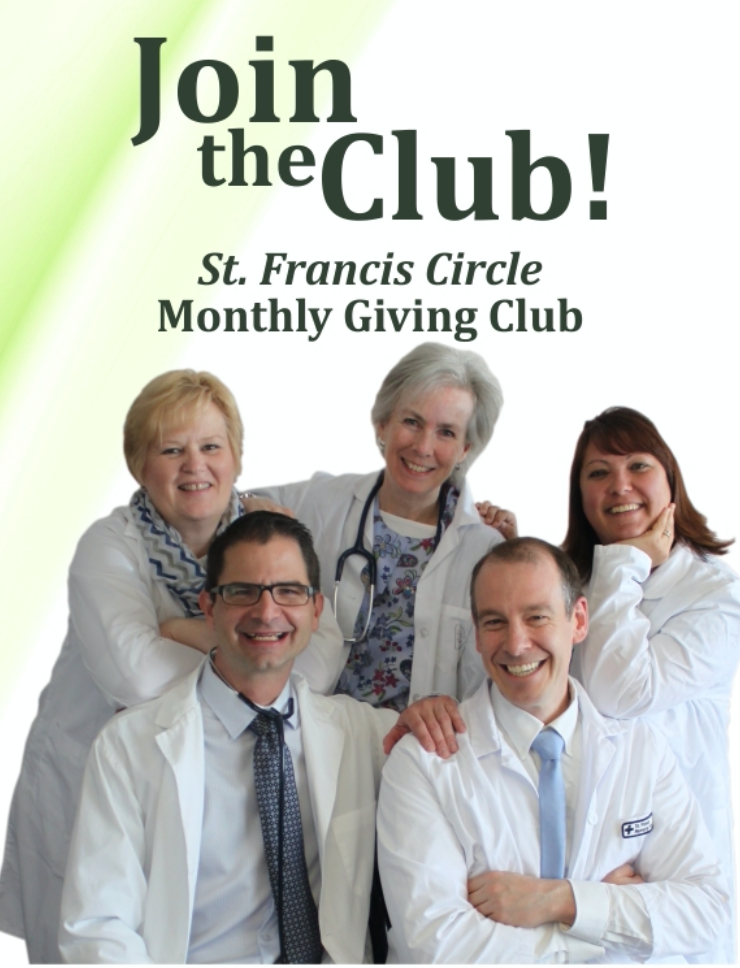 Wish Lists
Want to support local healthcare at the Hospital, Hospice Palliative Care or Valley Manor? Check out their wish lists of items needed to help them care for patients and families!
---
If St. Francis Memorial Hospital, Valley Manor, or Madawaska Valley Hospice Palliative Care holds a special place in your heart because of a personal experience or that of a family member or friend, we would love to hear from you!
To share your story and experience, please contact us at:
St Francis Valley Healthcare Foundation
p: (613) 756-3044 ext 333
or email us at: office@sfvhfoundation.com
---